Skulls - Flowers - Pompoms: Crochet for Day of the Dead
by Bobbie Matela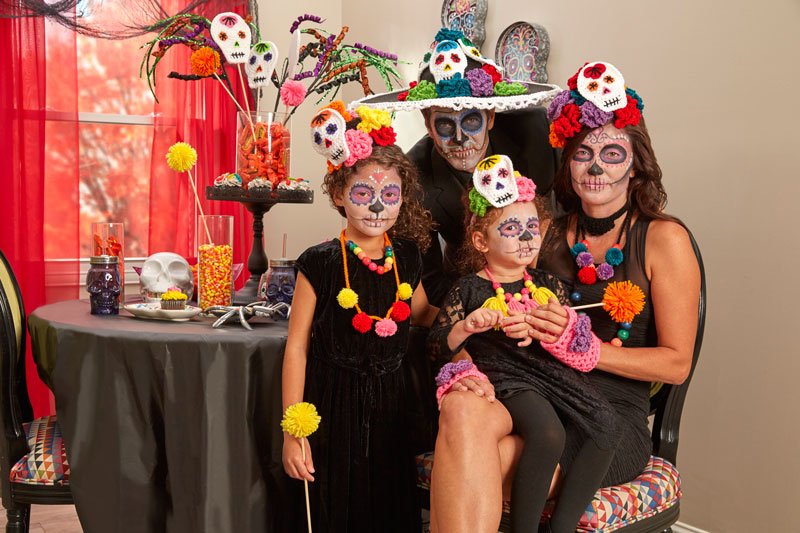 Dia de los Muertos, Day of the Dead or All Souls' Day, is a day of celebration and remembrance of friends and family who have passed away. This November 1 tradition is part of the culture in Mexico and Latin America, and it has become popular throughout the U.S. during the Halloween season.
What could be more personal and unique than your own Day of the Dead decorations to bring your own celebration to life? The designer of our Sugar Skull Family, Jessie Rayot, has used brilliant colors with a sugar skull theme for a sense of authenticity and fun. From crocheted sugar skull headpieces for the adults and children to necklaces, party décor and banner, you might just want to celebrate Day of the Dead every month of the year!
Brenda K.B. Anderson (garland and pillow), Michele Wilcox (cozies), and Andee Graves (earrings) also contributed patterns.
Ten of these patterns -- all except the earrings -- are made with colorful, economical, easy-to-crochet Super Saver. If your local store does not have the colors you need, you can order yarn from Redheart.com when you download the pattern. The earrings are made in Aunt Lydia's Classic Crochet Thread Size 10, which you can also find in your local stores and on RedHeart.com.
For more information on how to do Sugar Skull makeup, please go to YouTube.com and search Sugar Skull makeup for many creative ideas. Here is one video of applying sugar skull makeup on a child that I enjoyed watching.